Sophie Hirsch Solo Exhibition at SewonArtSpace, Opening 19th of June 7pm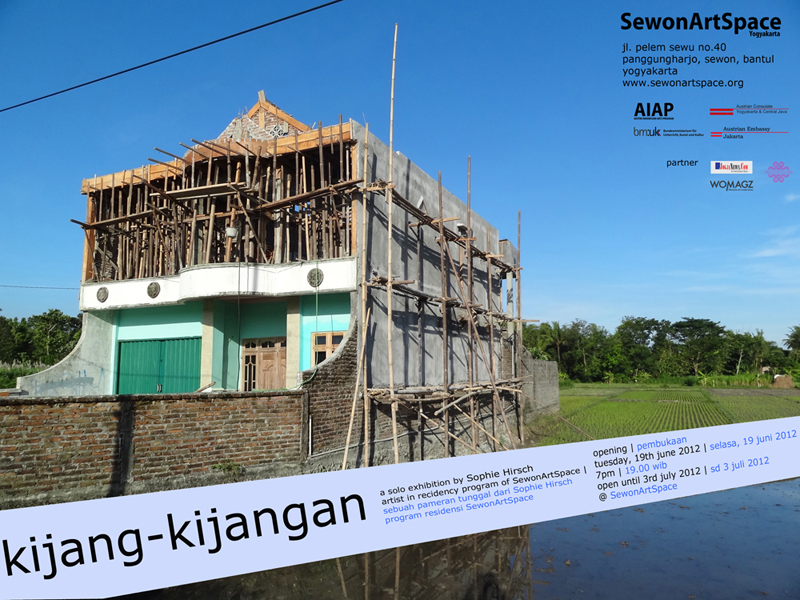 Kijang Kijangan a Sophie Hirsch exhibition
Opening - Tuesday, June 19, 2012 - 19.00 pm Exhibition is open until July 3, 2012 Artist Talk Wednesday, June 20, 2012 Speaker: Sophie Hirsch / Moderator & translator: Dyah Soemarno
Resident Artist Program at SewonArtSpace
Resident artist program at SewonArtSpace is a result of cooperation between Austro Indonesian Art Program (AIAP) and BUMK (Bundesministerium fur Unterricht, Kunst und Kultur) which is a powerhouse in Austrian art world. This program facilitates artist to reside in Jogjakarta for three months. Throughout this program the resident artist will stay in Jogja while exploring, adapting with, discovering and learning about things that draw his/her attention. Later during artist stay s/he is expected to experiment with local community to create an artwork hence the collaboration and transfer of communication for a more progressive fine art development in Jogjakarta. For more information about SewonArtSpace and AIAP please check out our website www.sewonartspace.org
Sophie Hirsch and her relationship with Art
Sophie Hirsch (Austria) is the first artist of the residency program at SewonArt Space-Jogjakarta. During her three months stay Sophie has experienced many cultural 'shocks' which inspire her in her creative process. She has been to a wedding party, batik painting, waste disposal site, to a house construction sites that she sees a lot on street side in Jogja. These are a few among so many things that attract her attention.
Her sensitivity as an expat in Jogjakarta renders her seeing something extraordinary in the object that we deem 'ordinary'. From that point she got her basic idea for her artworks at SewonArtSpace which will be displayed and opened for public on June 19, 2012 at 19.00 pm under the title 'Kijang-Kijangan'.
Her astonishment toward a framework from a construction site which she randomly spotted on the roadside made her interested in working in bamboo and iron material. These materials then were combined with used rice sack. Within her creative process, Sophie has always been challenged to explore the available and used material. In the last three years she even intensely working in used plastic to create three-dimensional artworks with a strong artistic values. Sophie at times states that her interest to waste material is not an idealistic interest of campaigning about environmental issues that has been a global issue, but even goes further than that to see the hidden artistic dimension of waste material as forgotten objects.
Sophies's unique personality contributes greatly to the character of her works. Not only during the creative process that it is true but also when the artwork eventually displayed it is indeed an inner representation. Not so much a tale or conceptual review that she juxtaposes with her artwork. For her an artwork is like a child that she nurtures. Thus when it grows mature it has to be independent and subsistent. Therefore it has to be able to explain itself to the public.
The way she defines her position with art is also interesting. She feels that she has a relationship resembling a romance to it. Therefore emotional attachment makes her frustrated, happy, and fulfilled at unpredictable times. Conflict and intimacy sometimes appear at once which creates questions leading to gradual progress. The same questions reappear another time with a similar answer or modified into spiritual pursuit that makes her feeling toward art stronger and real.
Her coming to Indonesia, which is her first time, is a 'return home' where her relation with art is challenged again and rejuvenated with repeated process much like batik painting. Painted-bleached-and painted back to get artistic perfection and the contemplation. Enjoying her work constituted by braided iron and plastic, we can see that psychological thread. Stiff, complex, and soft at the same time. Indeed during her working on the material Sophie came across difficulties since the materials is not easy to be treated only by bare hand and simple tools.
"Sometimes we can make situation easier by creating simple artwork. But artwork is life itself, which has conflict. Thus we can see the dynamics. We can combine iron, plastic and bamboo in a simple way but I chose to braid them together giving a role to each elements."
That is her way to explain the hardest part in working on her artwork. Nevertheless she succeeds to create a more complex and dynamic relationship in each material involved in it.
The Concept of this Exhibition Opening
This exhibition is the third event created by SewonArtSpace since its establishment in 2010. Therefore this is more than presentation of artworks from international resident artist but also still in accordance with our mission to introduce SewonArtSpace to fine art circles of Jogjakarta. The purpose of our programs is to introduce latest artworks from Indonesia, Austria and Europe at large. While at the same time being a source of important and interesting international and local academic information for students, general public in Indonesia and both Austrian and other visiting European artists.
In this exhibition, SewonArtSpace creates a simple open house concept featuring acoustic music from Sisir Tanah, and food cooked on site by Hearts Kitchen community collaborating with Bagong BG. SewonArtSpace believes that every element in an art event is an expression of art itself—artworks, music, food, and interaction are those among the most artistic in life. Enjoy.