superViVo by Erkin Bayirli & Philip Fischer 6th of September 2012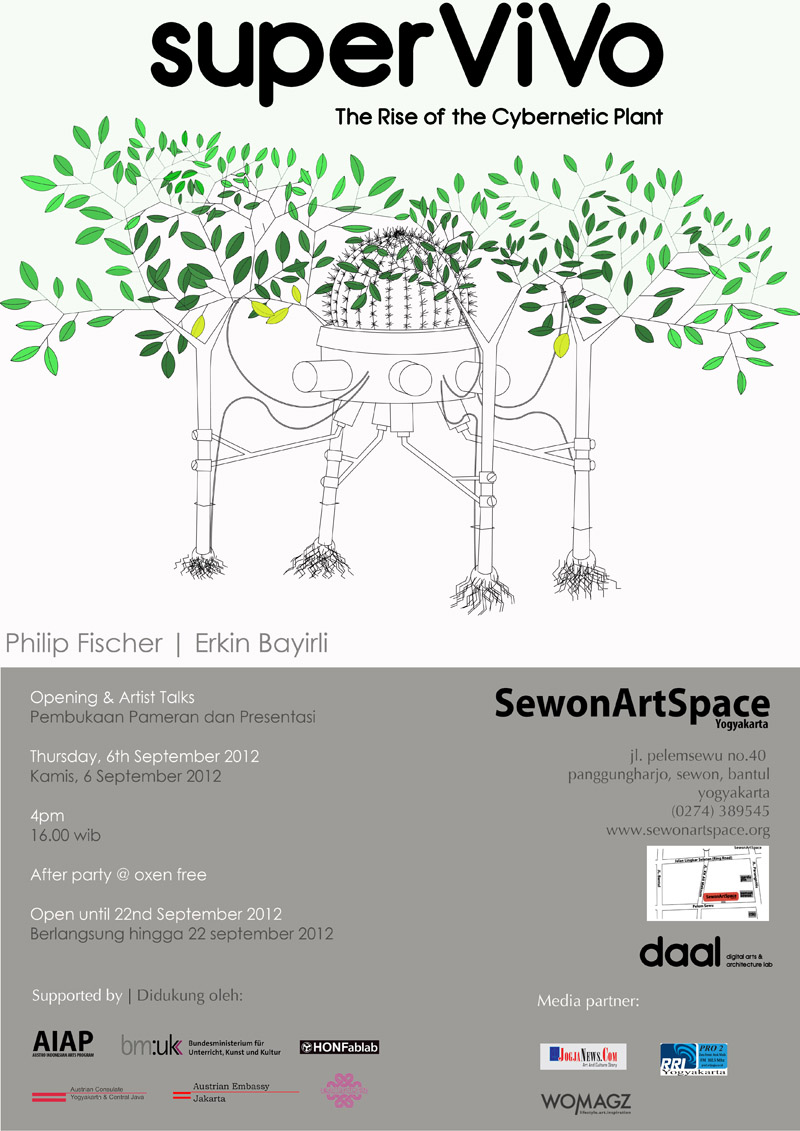 The project ́superViVo ́ is an eclectic artistic experiment, in the field of new media art and can be situated in the combination of robotic art, bio art and game art.
In a playful way it develops, realizes, tests, documents and analyzes "cybernetic plants" in three adjacent cycles.
Three robots are built within the three-stage experiment. Traditionally, the legs of robots are mechanic, but in this project they are replaced by branches of fast growing plants. Thus, the plants are expanded by mechanical motor activity on the one hand, and on the other hand the machine is expanded by organic components. Both entities are driven by controversial 'instincts': The machine strives to stay in motion, but the plants urge to settle down. By conjoining both, a unit fighting itself is formed.
The play ground for this schizophrenic's inner conflict is the ´s u p e r V i V o – Arena´. This dramatization determines which of the two artificially constructed, allegedly symbiotic, components succeeds over the other. The playing field is changed according to each act and bears lethal or vital zones for each 'cyborg'.
The first robot operates as a walking machine, its organic legs work against the mechanism's movement by rooting and sprouting. 
In the second part of the experiment the robot's movement is influenced by two entities: on the one hand it is steered by community networks, on the other hand it is governed by the organisms, which want to settle down – literally set down roots.
In the third act, the manipulation by the community is omitted, which neutralizes its ambivalence and only the plants remain to govern over the robot according to their needs.

With this eclectic project we want to persuade the "art consumer" to (reconsider or) develop an awareness about their own thinking and acting towards nature as well as to question the relationship between technique or technological progress and nature.

At SewonArtSpace we will perform the first scene: ´Organism versus Mechanism´.
For more detailed information about the superViVo project please visit the website: http://supervivo.daal.at


About DAAL:
The Digital Arts and Architecture Lab (DAAL) represents a interdisciplinary platform for research and development, experimental architecture and prototyping in the fields of arts, architecture, biology, design and technology. DAAL was founded in 2008 and runs its facilities in Vienna. DAAL is coordinated by Erkin Bayirli and Philip Fischer.
For more information about DAAL please visit the website: http://daal.at
The Artists:
Erkin Bayirli, born in Vienna, Austria, deals with contemporary trends in technology, art and architecture. He realized several projects of bamboo in tensegrity design in Vienna and Montpellier, France. He organized several symposia and workshops and was the head of the studio community LTEX. Together with Philip Fischer he founded DAAL. He does Robot Building workshops for Children. Erkin is researching on kinetic architectural structures and biomimetics.
Philip Fischer, born in Vienna, Austria, is a board member of 5uper. net and project coordinator of DAAL. Together with 5uper.net he produced Symposia, Workshops and Exhibitions in MuseumsQuartier Vienna, Kunsthaus Graz and various Off-Spaces (e.g. 'Playfulness', '21st Century Art Practices', 'Vizinhos – Networked Arts in Brazil', 'Cuisine Digitale', 'Coded Cultures'). Besides organizing, Philip is researching on man-machine-interaction, man-nature-interaction&relationship and hybrid media evolutions. He is actively working in the areas between arts, technology and biology.